Market Report
Please provide the following information so we can contact you with your area market report.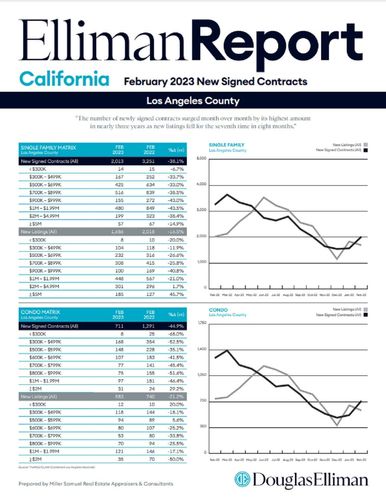 about our reports
Produced in conjunction with Miller Samuel, a leading independent appraisal firm, our market report series is the benchmark for residential real estate market information and an essential reference source for consumers, the media, financial institutions, government agencies, researchers and other market professionals. Each report provides an analysis of price and sales trends as well as many other metrics to give readers an idea of current conditions as well as historical and emerging market trends. Join My
Network
Keep up to date in the latest market trends and opportunities in Los Angeles
Copyright © 2023 Scott Jame Luxury Estate. All Rights Reserved.
150 EL CAMINO DRIVE, BEVERLY HILLS, CA 90212. 310.595.3888 © 2023 DOUGLAS ELLIMAN REAL ESTATE. ALL MATERIAL PRESENTED HEREIN IS INTENDED FOR INFORMATION PURPOSES ONLY. WHILE, THIS INFORMATION IS BELIEVED TO BE CORRECT, IT IS REPRESENTED SUBJECT TO ERRORS, OMISSIONS, CHANGES OR WITHDRAWAL WITHOUT NOTICE. ALL PROPERTY INFORMATION, INCLUDING, BUT NOT LIMITED TO SQUARE FOOTAGE, ROOM COUNT, NUMBER OF BEDROOMS AND THE SCHOOL DISTRICT IN PROPERTY LISTINGS SHOULD BE VERIFIED BY YOUR OWN ATTORNEY, ARCHITECT OR ZONING EXPERT. IF YOUR PROPERTY IS CURRENTLY LISTED WITH ANOTHER REAL ESTATE BROKER, PLEASE DISREGARD THIS OFFER. IT IS NOT OUR INTENTION TO SOLICIT THE OFFERINGS OF OTHER REAL ESTATE BROKERS. WE COOPERATE WITH THEM FULLY. EQUAL HOUSING OPPORTUNITY.